Nordic Arts & Health Research Network meeting, 21st April 2020, Levanger, Norway - POSTPONED UNTIL SEPTEMBER 2020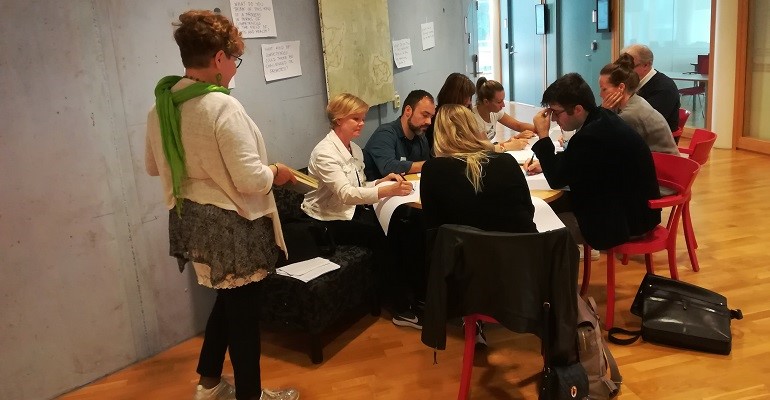 DUE TO THE CORONA-VIRUS OUTBREAK THE NETWORK MEETING HAS BEEN POSTPONED UNTIL SEPTEMBER 2020. More detailed info about the dates will follow.
Warmly welcome to the next Nordic Arts & Health Research Network meeting organized in Levanger on 21 April 2020, with focus on arts & health education. The network meeting is hosted by the Norwegian Resource Centre for Arts and Health. We invite you to an exciting day with presentations, workshops and network opportunities with your Nordic arts & health colleagues.
Keynote speakers:
Professor Ross W. Prior (University of Wolverhampton, UK): Educating Well: A Future Paradigm for Applied Arts and Health Education
Medical and neurological music therapist Audun Myskja (Norway): TBA
A more detailed programme will be released before mid March.
After the network meeting, you are welcome to join a network dinner at 7pm. We are also planning a social gathering in the evening 20th April and hope to see as many of you as possible there. More details about time and venue will follow.
We have reserved accommodation at Thon Hotel Backlund until 5th March. When booking your accommodation, mention that you are participating the Nordic Arts & Health Research Network meeting, and you will get a discount for your room. Please note, that this is the only hotel in Levanger, and in case you book after 5th March we cannot guarantee that there are available rooms.
Sign up for the network meeting before 30th March 2020: https://link.webropolsurveys.com/S/B3E1CF6A22594C92
For more information, please contact:
Wenche Torrissen
Professor
Høgskulen i Volda / Nasjonalt kompetansesenter for kultur, helse og omsorg
torrissen@hivolda.no, +47 70 5286 / +47 95181716
Liisa Laitinen
Adviser, Arts & Health
Taikusydän – Arts & Health Coordination Centre
Arts Academy, Turku University of Applied Sciences
liisa.laitinen@turkuamk.fi, +358 50 468 7263